By Lesedi Ledwaba-Chapman, Senior Statistician at Exploristics
October is Black History Month and I want to take this opportunity to celebrate the wonderful life and contributions made by Dr Patricia Bath. Patricia Era Bath was born in Harlem, New York in 1942. She excelled at school and won a scholarship that led her to take part in a cancer research project where she made important discoveries. At 17 years old she featured on the front-page of the New York Times after her findings were published and shared at a conference.
Civil rights movement
Dr Bath was inspired by interactions with Dr Martin Luther King Jr. and his tireless advocacy for the poorest in society. Shortly before his assassination in 1968, Dr King organised the Poor People's Campaign, a multiracial effort to alleviate poverty regardless of race. Dr Bath collaborated with fellow medical students to provide free health care to supporters of the campaign as they camped in Washington.
Community Ophthalmology
Fresh out of medical school, Dr Bath spent time in eye clinics at Harlem and Columbia and noticed discrepancies in visual impairment among black and white patients. Her observations led her to found the American Institute for the Prevention of Blindness (AIPB) in 1976, a non-profit organisation based on the principle that "eyesight is a basic human right." The AIPB advocated for "community ophthalmology", a now worldwide discipline established by Dr Bath that provides primary eye care to underserved populations in the community. Dr Bath's pioneering discipline has saved sight across the globe and continues to be practiced today.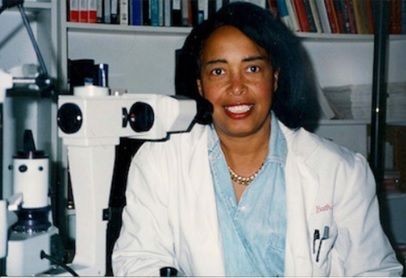 Dr Patricia Bath 1942-2019.
Overcoming obstacles
Dr Bath smashed many glass ceilings during her long career, to name a few. She was the first African American to serve a residency in ophthalmology at NYU, the first female ophthalmologist to join the Jules Stein Institute, and the first African American woman to hold a medical patent. The catalogue of firsts to Dr Bath's name highlights the systemic racism and sexism faced by black women. Dr Bath took a sabbatical in Europe to focus on the research that led to her first patent, in part due to the racism and sexism that present in American academia.
Scientific breakthrough
Dr Bath researched at specialised laser laboratories in Paris and Berlin where she was able to perform experiments for a pioneering method of cataract surgery. The landscape of ophthalmology and non-invasive procedures more widely were changed when she developed the "laserphaco" process and the Laserphaco Probe. By using lasers, her device was less invasive and more precise than earlier surgical methods. She patented the Laserphaco Probe in 1988 and the device is still used globally to treat cataracts.
Final words
Dr Patricia Bath was an extraordinary scientist that left an indelible mark on ophthalmology in the face of adversity. Her combination of public health, community outreach, and ophthalmology into a single discipline, community ophthalmology, continues to be practiced across the globe. In 2017 when she was listed as one of the 14 Women Physicians who Changed the Course of American Medicine. Dr Bath passed away in 2019 leaving behind incredible contributions to medicine.