By Exploristics Senior Programmer, Lindsey Megarry-Jones (she/her)
This month Exploristics are celebrating LGBTQ+ History Month. Every February we have the opportunity to pay tribute to lesbian, gay, bisexual and transgender people and their contributions to history.
LGBTQ+ people have always been present in science, technology, engineering and maths (STEM), but their lives and the impact of their contributions have not always been visible.  Overall estimates suggest that LGBTQ+ people are roughly 20% less represented in STEM fields than expected. Not only this, but LGBTQ+ people who are part of the STEM workforce report more negative workplace experiences than their non-LGBTQ+ counterparts. In the UK, 28% of LGBTQ+ scientists in physics, chemistry and astronomy considered leaving their jobs because of discrimination at work and for trans scientists this figure was particularly high, rising to around 50%.
As part of LGBTQ+ History Month, we're highlighting one particular figure who made a huge impact through their dynamic discovery.  Here's a quick introduction to Trans Computer Scientist, Sophie Wilson.
Dr Sophie Wilson CBE (1957-) Computer Scientist
There's a good chance you've never heard her name, but you carry Sophie Wilson's technology with you every day.
In the early 80's, Wilson and her team at Acorn Computers developed a type of computer processor which would use very little power, was small and could be produced cheaply and quickly. The processor is called ARM, which was used to develop the Acorn Computer, a small personal computer that people could have in their own homes. When the technology was applied to Motorola devices, enhancements were made, successfully condensing the data even further to squeeze everything inside a hand-held mobile phone. This ARM technology is present in more than 60% of all smartphone devices today. The key element? The processor can run on a tiny amount of energy – less than a tenth of a watt.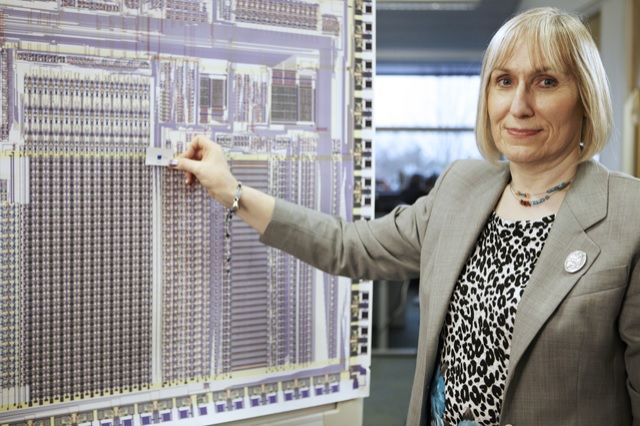 Sophie features in this video discussing her role in the creation of the BBC Micro (present in many classrooms in the 80s) and how that impacted the next generation on the development of the Raspberry Pi.
Raising awareness of LGBTQ+ STEM stories will help to support LGBTQ+ people and their allies so they can become more visible and act as a role model for other people in the community who aren't ready to come out yet.
For those wanting to do more to understand and show their support for the LBGTQ+ community, there are things you can do on an individual basis in the workplace e.g., putting pronouns in email signatures.  Learn more from NI-based organisation Cara-Friend at https://cara-friend.org.uk/.