Aiden Flynn, CEO 7 July 2020
The COVID-19 pandemic has demonstrated the importance of science and the dedication of scientists in overcoming the challenges that we face. At Exploristics, we have been involved in multiple projects relating to the development of new treatments and diagnostics. This includes the initiation of a new study to investigate the utility of an approved nebulised recombinant human DNase enzyme (Dornase Alfa) to reduce hyperinflammation in hospitalised participants with COVID-19 (The COVASE trial).
Rapid protocol development
In a collaboration between Exploristics, The Francis Crick Institute, University College London Hospital and Target to Treatment, the protocol was developed and approved within extremely tight timelines to give the most at-risk patients a new treatment option.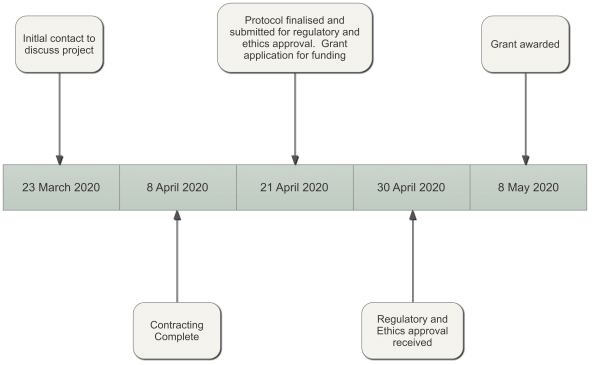 From the Exploristics perspective, we went from an initial contact, a blank protocol and no funding to a successful grant application and recruitment of patients into the study within 7 weeks. Within Pharma, it is not unusual for protocol development to take many months, if not longer, so the rapid turnaround is an outstanding achievement.
Great teamwork
The ability to deliver a high-quality proposition that could save lives was underpinned by some key characteristics that any good team should possess. These included:
a common purpose to expedite the development of a new treatment option for patients with COVID-19 and to find a solution to a global problem that has impacted all of us.
a multidisciplinary team consisting of a small and focussed group of clinicians, scientists and statisticians, bringing together all the skills and expertise needed to bring the project to fruition.
good collaboration and engagement, a trust in individuals to have their say and play their part. There were no politics, hidden agendas or ulterior motives, just the desire to use our knowledge and experience to solve a problem.
strong leadership which enabled a focus on the important things, clear accountability and responsibility ensuring the project kept moving forward.
All of this just kind of fell into place, there were no grand announcements, no elections, no definitions of role specifications, just a group of experienced clinical researchers and drug developers who knew what they were doing.
Scientific solutions
Whilst we are in the midst of a serious global healthcare crises, the spotlight of the world is shining on the healthcare scientific community to find solutions. This brings out the best in science, it highlights the critical role that science plays in our world. Whether it be Dornase Alfa, another treatment, a vaccine, diagnostics or alert systems, scientists will find solutions. They will also find solutions quickly because there is a clear problem and a huge need and that is what drives them forward. Where there's a will, there's a way.
Addendum
In the weeks since I originally wrote this blog, the story has taken an unexpected but welcome turn. With the reduced incidence in London and the initiation of numerous clinical trials, recruitment into studies has been challenging. So, to date only one patient has been recruited in the UK and there are now very few new COVID-19 cases. We may never know if the drug saves lives; it is clear that many scientists across the globe have been frantically working to bring new treatment options to patients and may find themselves in the same position. There is another lesson in all of this: You have to move quickly and decisively in a pandemic.
Read more:
Clinical trials after COVID-19
Collaboration with the Francis Crick Institute and UCL on the COVASE trial
Sir David Cooksey prize awarded to the Crick, UCH and Exploristics team