Exploristics attends the PSI Conference in London
In June, an Exploristics team comprised of Aiden Flynn, Kim Hacquoil, Sam Matthews, Andrew Mills and Katie Taiyari were delighted to attend the annual PSI Conference 2023 in Hammersmith, London. They participated in a packed agenda, presenting talks and posters as well as extending a fantastic Play Your Cards Right challenge created by Gareth Burns. The Shiny web app card game tapped into eighties nostalgia (for those old enough) and was a bit hit, showcasing the skills within the development team. Read more on this in Good Games and Mighty Models and Planning, Implementing, Developing & Deploying in Days.

Andrew, Sam, Aiden, Katie and Kim in action at the PSI Conference 2023
Catch up on the posters presented by Andrew and Sam below:
Poster 1: Using Z-scores of the log-rank test to assess probability of success at planned interim in survival analysis using correlated secondary endpoints.
Poster 2: How statisticians can bridge the gap between clinical trials and registry-based data.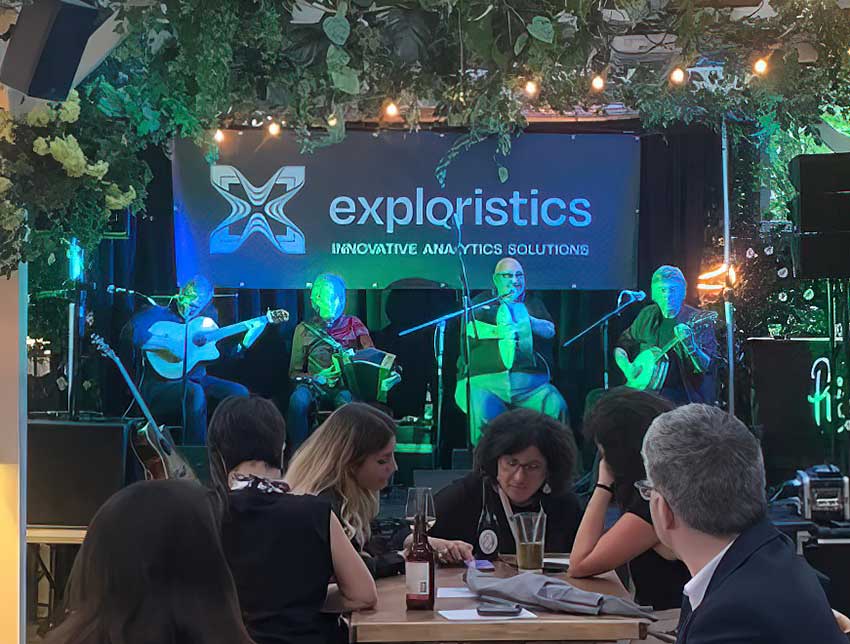 The Monday evening social at PSI with Gino Lupari & The Old & New Dogs
Exploristics were also delighted to sponsor the PSI Monday night social event which brought an authentic Irish feel to London with excellent music from Gino Lupari and the Old and New Dogs. The band of international folk superstars Gino Lupari, Dermot Byrne, Gerry O'Connor, Tim Edey and Niall McNamee came together especially for this event, and demonstrated superlative musicianship to extend a warm Irish welcome to the conference delegates. You can listen to the band here: