Exploristics Takes the Pledge with the Belfast Business Promise
Exploristics are delighted to be participating in Belfast City Council's new inclusive growth initiative, the Belfast Business Promise.
Exploristics CEO, Aiden Flynn, said "As a Supporter of this scheme, we actively endorse this important initiative. Built on a foundation of 8 key pledges we hope to play our part in helping to deliver more sustainable and inclusive economic growth in Belfast as part of its vibrant and innovative business community."
Belfast Business Promise Programme Coordinator, Maria Robinson, said "Belfast Business Promise is and Inclusive Growth City Charter for Belfast, a key commitment for us as a civic leader, in helping achieve our vision of creating an inclusive city, ensuring success reaches every citizen and where everyone has the opportunity to participate and benefit".
"We are delighted to welcome Exploristics onboard the Belfast Business Promise as a Supporter organisation. Exploristics have demonstrated their commitment in joining Belfast City Council and Supporter organisations on our journey of shaping an inclusive city for all".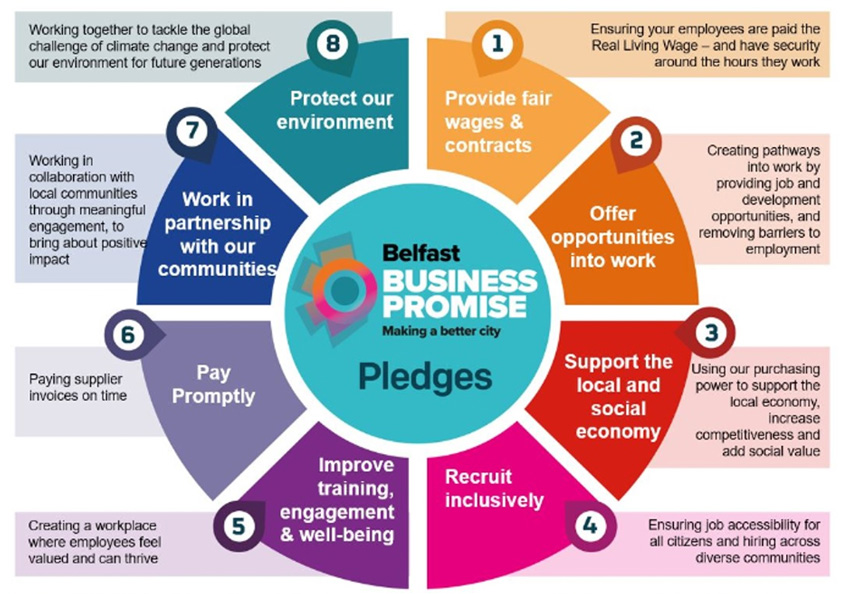 The eight commitments in the Belfast Business Promise.
Find out more about the Belfast Business Promise at https://www.belfastcity.gov.uk/businesspromise.