By Caroline O'Hare (she/her), Business Communications and Marketing
June is Pride Month for many and marks the start of joyful celebrations of the LGBT+ community which can last well into the summer. While timings can vary for these festivities, June holds particular importance as it commemorates the people involved in the Stonewall Riots which started on 28th June 1969. These were a series of uprisings by the gay community in response to a heavy-handed police raid on the Stonewall Inn in Greenwich Village, New York, and are considered a pivotal moment in the fight for LGBT+ rights.
Stonewall's Legacy
The raids and unrest at Stonewall ignited the formation of LGBT+ activism groups demanding the right to live openly according to their sexual orientation without being arrested. The following year, the first gay pride marches occurred in cities around America on 28th June to commemorate Stonewall. Since then, LGBT+ rights organisations have sprung up globally as have a multitude of Pride events including parades, festivals and concerts.
Proud and Loud
This year, Belfast Pride will be celebrating with its incredibly popular Pride Festival which runs from Friday 21st July until Sunday 30th July, with Pride Day and the incomparable Pride Parade on Saturday 29th July. Like last year, Exploristics is looking forward to celebrating too with our very own Pride party on July 29th July before going to the parade. As we don our glad rags, rainbow flags and shimmy alongside the bold and the beautiful, we anticipate fabulous fun in a welcoming atmosphere. We will also be mindful as we conga into the sunset, that we will be striking a blow for greater inclusion, kindness and acceptance in society at large. Over 50 years on from Stonewall, it's surely what anyone would want.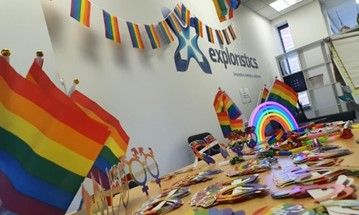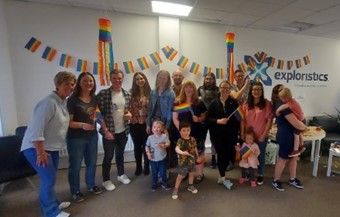 Last year's Pride Party at Exploristics HQ, Belfast.