By Alecia Nickless, PhD, Principal Statistician at Exploristics
The first in-person PSI Conference since the start of the COVID-19 pandemic was held last month at the Gothia Towers in Gothenburg, Sweden. From the record attendance, it was clear that PSI members were excited to meet up with old colleagues, and for those of us new to the organisation, it was a welcome chance to make new connections and meet with peers.
PSI (Statisticians in the Pharmaceutical Industry) is an organisation where statisticians can share ideas as well as develop and debate methodologies and best practice in the Pharma industry, shaping research methodology and the standards within it. The annual conference is the principal annual event for PSI where ideas and progress towards methodology standards and advances can be demonstrated, and in some cases debated. This year's event was no exception. If anything, it was all the more significant as it was the first time many of us were able to present research conducted on the COVID-19 pandemic or that impacted by the pandemic in one way or another.
One of the main areas of focus at this year's PSI conference, including a pre-conference course and a workshop on the topic, was the implementation of the Estimand framework. As stipulating Estimands is a requirement for most protocols these days, consideration of different types of intercurrent events and their impact on the estimates generated were key areas of discussion. Adaptive designs were also a hot topic and covered in several sessions during the conference, with a keynote session on master protocols giving helpful guidance on platform, basket and umbrella trials. Simulation methods were shown to be pivotable to investigating and planning of adaptive designs in several presentations. Real World Data and External Control arms was another hot topic, covering fast developing methodologies, such as Bayesian dynamic borrowing.
A useful element at the PSI conference are the SIGs, or Special Interest Groups. These provide an important platform within PSI where statisticians from various backgrounds and organisations can work together on particular topics. An example of this is the Application and Medical Statistics SIG (AIMS SIG) which seeks to support and contribute to the use of R statistical platform in Pharma. The conference provides a valuable opportunity to present progress on the goals of each SIG, recruit new members to the SIG, and discuss the way forward.
Another key conference feature is the presence of representatives from the regulators and agencies. This presents a unique opportunity to ask regulators directly about processes and present perceptions of statisticians on regulatory pathways. An interesting and lively session was held on the thorny topic of subgroup analysis, particularly in the context of Health Technology Assessment (HTA) submissions. Regulators presented progress on important guidance documents, while other sessions covered guidance on how to implement the use of real-world data to supplement data from confirmatory clinical trials.
One of the highlights of the PSI conferences are the "rapid fire talks" presented by the poster presenters at the conference. This is a fun way of bringing attention to the posters on display, and from the lively attendance of the poster session, it definitely worked! Exploristics presented two posters; one showcasing award-winning work carried out in the area of COVID-19 research, and another investigating the impact of COVID-19 on important study assumptions and how simulation can be used to de-risk new trials under these circumstances.
The topics covered during the presentations are just one part of the PSI conference. Another exciting component that many of us would have missed out on while attending virtual conferences, are visits to the exhibitor stands. This year had stands from a variety of statistical services and statistical software providers, as well as recruiters. Exploristics had a stand where we showcased the latest 2022 release of our flagship clinical trial simulation software, KerusCloud, and had the opportunity to talk all things simulation with PSI members who were both entirely new to simulation and to those who were well experienced in the simulation arena.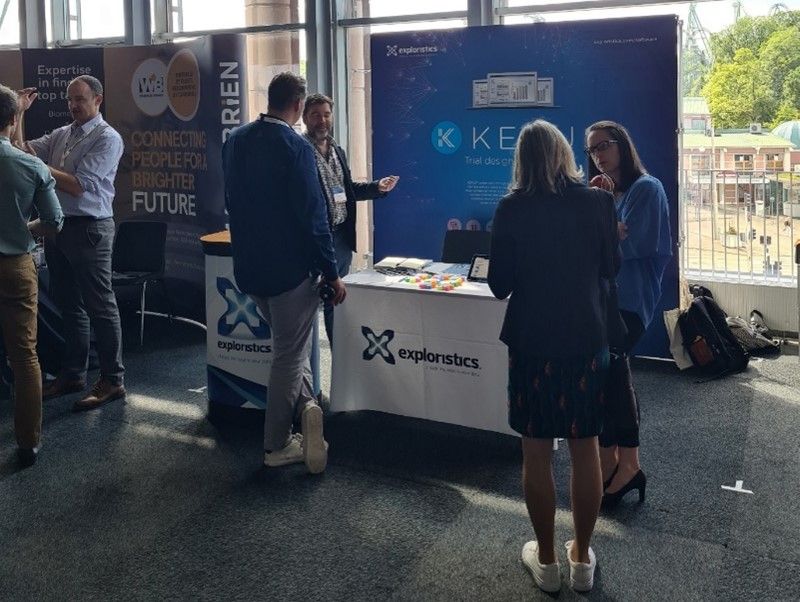 CEO Aiden Flynn and CDSO Kim Hacquoil at the Exploristics stand.
 From the perspective of Exploristics, the topics and discussions covered at this year's PSI conference confirms that our KerusCloud platform is ideal to address many of the current challenges faced in clinical trial development. From our approach of using the simulated virtual population as the basis of any simulation study, we can already address the Estimand framework by considering various sources of missing data, simulating intercurrent events, and creating derived variables from several simulated inputs. More explicit formulations of common Estimands in clinical trials are currently in development for KerusCloud. The platform also has an ever-expanding suite of adaptive study designs available, which currently includes futility designs, group sequential, and sample size re-estimation. The implementation of these designs has deliberately been made to be as flexible as possible to cover a variety of bespoke approaches. To inform the parametrisation of the virtual population, and to make creating virtual populations even easier in KerusCloud, a Data Model Builder (DMB) application is being developed to accompany the main KerusCloud platform. The DMB enables the extraction of parameters directly from existing datasets so that KerusCloud can easily create virtual (synthetic) datasets which closely mimic these, whether the data come from previous trials or from real-world data sources. This ground-breaking feature allows clinical teams to make the best use of real-world data and historical data to inform the design of new clinical trials.

In-person networking in the main conference hall.
 Finally, last but not least the PSI conference social events proved worthy of a mention. This is another component of the in-person conference experience that had been missed by many of us. PSI made sure to keep us all busy in the evenings, which gave us the opportunity to network and make those important connections that can be so vital. Exploristics sponsored a wonderful evening at a local Brewhouse beer hall, where we had excellent food and drink amid the constant buzz of conversation and merriment. The social events culminated in the conference gala dinner where we were we had a few words from our illustrious PSI Chair, Chrissie Fletcher, enjoyed more good food and beverages, and were well entertained by an excellent ABBA tribute band. Hitting the dancefloor for some ABBA classics, it was clear just how much statisticians have missed being out and about!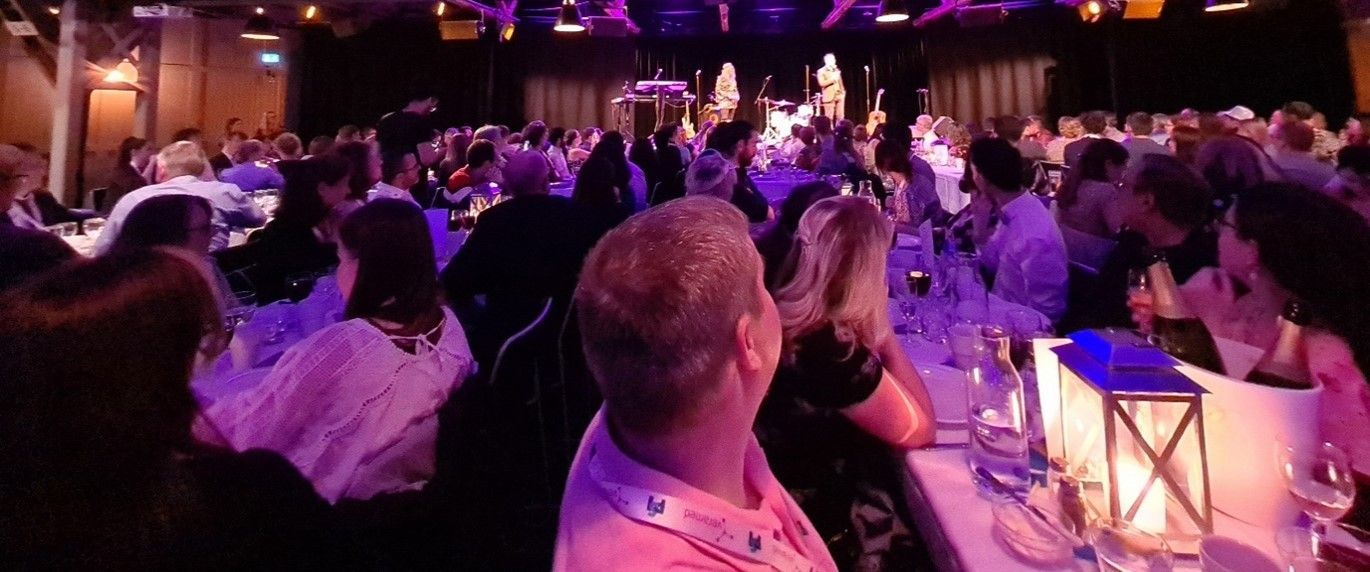 Fine dining at the PSI Conference Gala Dinner at Kajskjul 8.
Read more:
Developing the higher/lower app game